Assalamualaikum..
acely da lame da dapat mesej ni..just nak tanya pendapat korang oke..

salah ke saya

?
salah ke saya bila letak status married di facebook??
salah ke ek??
seorang hamba Allah menegur saya melalui mesej di FB.

.
he said : when u registered ur marriage with the guy name Safwan Arif nie eh! bile kenduri nye? dimana? agak bler jugak!
sebab tekezut, dengan bodohnya saya bertanya..siapa ni?
replied and said : u shud'nt ask me that kind of ques just revert this message if u like too..my ques is, when was the wedding ceremony, who become wali, what's was the date, when was the wedding card release and the most important, how's was the ijab kabul as what u say so!
ohh my....terkedu sekejap bila baca ayat beliau..panik pon ade..awat marah sangat ni pakcik..saya ada terfikir tentang someone yang penah ada kaitan dengan saya..but ntahla..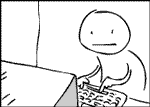 is it wrong if i letak my status as a

married woman

?? ada masalah ke kat situ?? grrrrrrrrrr...geram gile...

~wassalam~